If you're here today, you're probably wondering which English test is best: IELTS, TOEFL, or PTE. 
TOEFL stands for Test of English as a Foreign Language, while IELTS stands for International English Language Testing System. The Pearson Test of English is known as the PTE. 
These tests have become the go-to assessments for individuals aspiring to study, work, or immigrate abroad. But which one should you choose? 
It can be confusing to decide which test to take because most universities and colleges abroad accept any of these scores. Whether you're an ambitious student or a career-driven professional, we've got you covered. 
This blog simplifies the main differences between the IELTS, TOEFL, and PTE exams. Let's take the hard work off of you!
Difference Between IELTS, TOEFL, and PTE: [Chart]
| | | | |
| --- | --- | --- | --- |
| Test Section | IELTS | TOEFL | PTE |
| Reading | ✔️ | ✔️ | ✔️ |
| Writing | ✔️ | ✔️ | ✔️ |
| Listening | ✔️ | ✔️ | ✔️ |
| Speaking | ✔️ | ✔️ | ✔️ |
| Test Format | Paper-based or Computer-based | Computer-based | Computer-based |
| Test Duration | Approximately 2 hours 45 minutes | Approximately 3 hours 30 minutes | Approximately 2 hours |
| Test Evaluation | Artificial Intelligence and Human evaluation | Artificial Intelligence | Artificial Intelligence |
| Scoring Scale | 0-9 | 0-120 | 10-90 |
| Test Frequency | 365 days | More than 50 dates per year | More than 60 dates per year |
| Accepted by | Australia, the United States, Canada, the United Kingdom, France, New Zealand, and Ireland | Universities and institutions Most of the global countries, especially in the United States | Australia, Canada, the UK, Ireland, and New Zealand |
| Test Fees | INR 16,250 | INR 15,050 | INR 15,900 |
| Results | In a 2 weeks | In one week | In 2 days |
Test Format Comparison – IELTS vs TOEFL vs PTE
IELTS, TOEFL, and PTE are English language proficiency tests with different formats and structures. 
IELTS offers both paper-based and computer-based tests, giving test takers the flexibility to choose their preferred mode of examination. On the other hand, PTE is primarily conducted online, allowing you to complete the test on a computer. Because of COVID-19, the TOEFL changed significantly after 2021. ETS has discontinued the TOEFL PBT, making it exclusively a computer-based test. 
All these tests evaluate a candidate on four skills: reading, writing, listening, and speaking. 
Reading Skill – IELTS vs TOEFL vs PTE
IELTS (60 minutes):
The reading section consists of three long texts with various question types, such as multiple-choice, short answers, fill-in-the-blanks, and so on. It assesses understanding and extracting information from academic and general texts. 
There are 80 questions after the text passages, 40 of them academic and 40 of them general reading comprehension questions. 
TOEFL (50 -70 minutes):
The reading section focuses predominantly on academic texts. It consists of three or four passages, each approximately 700 words long, with 10 multiple-choice questions (MCQs) per passage.
Test takers are required to demonstrate their understanding of the content, organization, and vocabulary used in the passages.
PTE (30 – 40 minutes):
You will be required to read 300-word passages, which will be followed by five different types of questions. These questions include selecting the best word, filling in the blanks, MCQs, short answers, and re-ordering paragraphs.
Writing Skill – IELTS vs TOEFL vs PTE
IELTS (60 minutes):
The writing section consists of two tasks: academic and general. 
IELTS Academic involves describing visual information, such as graphs or charts, in a structured manner. This task evaluates the ability to present and compare data accurately. 
IELTS General requires writing an essay expressing an argument, opinion, or problem-solving approach. Examinees must demonstrate coherence, cohesion, and idea organization.
TOEFL (50 minutes):
This test comprises two tasks: independent and integrated. 
The Integrated task involves reading a passage and listening to a lecture, followed by writing a response to what you read and listened to. This task assesses the ability to synthesize information accurately. 
The Independent task requires writing an essay on a topic and supporting personal opinions with examples and reasons.
PTE (50 – 70 minutes):
The PTE speaking and writing test includes eight tasks.  
It begins with your personal introduction. Then come the tasks of reading aloud passages, repeating sentences, describing images, re-telling lectures, writing short answers, and writing a 200–300 word essay.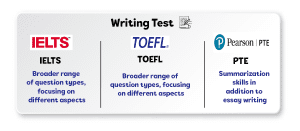 Listening Skill – IELTS vs TOEFL vs PTE
IELTS (30 – 40 minutes):
IELTS listening consists of four recordings of native English speakers. These audios include conversations, monologues, and academic lectures. 
Test takers must answer multiple-choice, matching, and completion questions based on what they hear. Candidates are graded on their understanding of the main ideas, details, and overall message.
TOEFL (40 – 60 minutes):
This section comprises academic lectures, classroom discussions, and conversations. Candidates listen to recordings and answer content-related questions. 
Listening comprehension questions include identifying key points, understanding relationships between ideas, and inferring information from spoken material.
PTE (30 – 45 minutes):
This test presents a mix of audio and video clips, followed by eight different question types. Candidates are assessed through multiple-choice questions, summarizing spoken text, and filling in the blanks. They are assessed on their ability to understand spoken information, extract relevant details, and comprehend the audio or video material.
Speaking Skill – IELTS vs TOEFL vs PTE
IELTS (10 – 15 minutes):
This test is a face-to-face conversation with a certified examiner in three formats.
Format 1 involves general questions about oneself, family, hobbies, and other personal topics. 
Format 2 requires test takers to speak on a given topic for two minutes, after which the examiner asks follow-up questions. 
Format 3 involves discussing more abstract and complex societal, cultural, or educational topics. This section assesses fluency, coherence, vocabulary, grammar, and pronunciation.
TOEFL (17 minutes):
This section is a computer-based test consisting of four different questions. These may resemble classroom and real-life situations.
You'll have one independent task to express your opinion on a familiar topic. You'll have 30 seconds to prepare your response. 
In addition, you'll have three integrated speaking tasks based on reading and listening. You have one minute to prepare your response. 
PTE:
As mentioned in the previous section, PTE's speaking test is combined with the writing test. 
Scoring System Comparison – IELTS vs TOEFL vs PTE
The scoring systems for IELTS, TOEFL, and PTE differ in terms of scale, scoring criteria, and reporting. Here's a comparison:
Score range: 
IELTS uses a band score system ranging from 0 to 9. TOEFL employs a score range of 0–120, while PTE uses a range of 10–90. 
How scores are calculated:
In IELTS, each section is individually scored. These are then averaged to determine an overall band score. The band scores correspond to specific levels of English language proficiency, with 9 being the highest (Expert User) and 0 indicating no English language ability.
TOEFL scores are calculated by adding the scores from the four sections. The total score indicates English proficiency, with higher scores indicating higher proficiency.
The PTE test uses only artificial intelligence to determine the results, unlike the previous two tests. An algorithm evaluates responses based on content, oral fluency, pronunciation, grammar, and vocabulary. This ensures reliable and unbiased results.
Score Comparison Chart – IELTS vs TOEFL vs PTE 
This chart will help you compare the test scores of the IELTS, TOEFL, and PTE English language tests:
| | | |
| --- | --- | --- |
| IELTS | TOEFL iBT | PTE |
| 9.0 | 118-120 | 86-90 |
| 8.5 | 115-117 | 83-85 |
| 8.0 | 110-114 | 79-82 |
| 7.5 | 102-109 | 73-78 |
| 7.0 | 94-101 | 65-72 |
| 6.5 | 79-93 | 58-64 |
| 6.0 | 60-78 | 50-57 |
| 5.5 | 46-59 | 42-49 |
| 5.0 | 35-45 | 36-41 |
Test Preparation Tips
Understand the Test Format: 
Familiarize yourself with the English language test's format, sections, and question types. This will help you prepare and strategize for each section.
Consistent practice is key to improving your English language skills. Set aside dedicated study time each day for your practice. Utilize practice materials, sample tests, and online resources to simulate the test conditions.
Take Official Practice Tests:
Practice with official practice tests or sample papers from the test organizers. These materials mimic the test and can help you understand the question types, time limits, and difficulty level.
Actively learn new words and phrases. Focus on field-specific academic vocabulary. Use flashcards, word lists, and context-based learning to improve your word knowledge.
Seek Feedback and Guidance: 
Practice speaking and listening with native speakers or language partners. Get writing feedback from an English teacher or tutor. Connect with other test-takers in classes or online forums.

Pros and Cons of Each Test:
| | | | |
| --- | --- | --- | --- |
| | IELTS | TOEFL  | PTE |
| Pros | Widely accepted | Results in a week | Results in 2 days |
| | Paper and computer based | Worldwide recognition | Easier that IELTS and TOEFL |
| | Real-life assessment | Academic focus | Real-life language usage |
| | More study materials | Scoring consistency | Flexibility in test availability |
| | | Test availability and convenience | |
| Cons | 2 weeks for results | May not reflect real-life English language | Limited recognition |
| | Face-to-face assessment can make your nervous | Mainly features North American accents | Less familiarity |
| | Adaptation to different accents | Strict timing | Less human interaction |
Please note that this is a general overview, and individual experiences and circumstances may vary. Choosing an English language test requires research and consideration of your needs.
Final Note – IELTS vs TOEFL vs PTE which suits you?
IELTS, TOEFL, and PTE each have their own unique advantages and suitability for different individuals. Ultimately, the decision of which test to take should be based on individual goals, preferences, and the requirements of the intended institution or organization. 
Regardless of the choice made, one thing is certain: With proper preparation and dedication, success in any of these exams is within reach. So, embrace the challenge, take the plunge, and let your language skills shine bright on whichever path you choose. Good luck on your language journey, and may your dreams soar high on the wings of fluency!
Need help understanding the detailed requirements for your dream study abroad destination? Click the link below.
Book a FREE call with Expert Counselor
FAQs
1. What is the eligibility to appear for IELTS, TOEFL, and PTE exams?
The eligibility criteria for appearing in the IELTS, TOEFL, and PTE exams vary slightly. Here are the general guidelines:
IELTS: There is no specific eligibility requirement for IELTS. It is open to all individuals, regardless of age or educational background. Students, professionals, and visa applicants frequently take it.
TOEFL: Students who want to attend an English-speaking university take this test. There is no specific age limit, but most institutions require applicants to be at least 16 years old.
PTE: Open to individuals of all ages and educational backgrounds. This exam is often taken by university applicants, visa applicants, and professional certification candidates.
2. What are the best resources to refer for an IELTS exam?
There are numerous resources available to aid in IELTS preparation. Here are some of the best ones:
Official IELTS Practice Materials: These Cambridge Assessment English books provide reliable practice exams and helpful advice.
IELTS.org and app: The official website offers valuable information, practice tests, and sample answers.
Preparation Books: Popular options include "The Official Cambridge Guide to IELTS" and "Barron's IELTS Superpack". 
IELTS Courses: Online platforms like Udemy offer structured courses taught by experienced instructors. YouTube channels like IELTS Liz, IELTS Ryan, and Learn English with Emma are also good picks. 
Practice Tests: Online and print IELTS practice tests help you understand the exam format and manage time.
3. How is PTE different from IELTS?
The PTE (Pearson Test of English) exam and IELTS (International English Language Testing System) have several key differences:
Format: IELTS is paper-based, while PTE is computer-based.
Scoring system: PTE uses an computer- automated scoring system. However, IELTS uses a human examiner to score the speaking and writing sections.
Test sections: PTE has three main sections: Speaking and Writing, Reading, and Listening. IELTS consists of four sections: Listening, Reading, Writing, and Speaking.
Test Duration: PTE has a fixed duration of approximately 3 hours, whereas IELTS can vary depending on the test format and the number of test takers.
Scoring Scale: PTE uses a scoring scale from 10 to 90, with increments of 1 point, while IELTS uses a 9-band scoring system, with half-band increments.