The modern world has already proved the demand in the global animation industry.
Want to grab a quality animation degree abroad to increase your skill set?
Consider a Masters in Animation in Ireland that will be the cost-effective lucky charm for your needs. 
With a reputable Masters in Animation in Ireland starting from €10,000, and the best of modules designed with the guidance of industry-led experts, Ireland always has more than a student should want. 
Why Study Masters in Animation in Ireland?
1.  Talent Recognition:
What could be more exciting than studying in a country that rewards your talent?
Ireland is well-known for its international Animation festivals that reward and celebrate the best of talented animators. 
2. NFQ Framework:
All levels of studies are overseen by the National Framework of Qualifications in Ireland.
This framework is responsible for issuing quality guidelines and maintaining academic integrity for higher education in Ireland.
3. Average Payscale:
The average payscale for Animation graduates in Ireland is €29,894/annum.
This can go as high as €40,000/annum for 2D animators and €50,000/annum for 3D animators. 
4. Critical Skill Career:
Do you know your chances of attaining a PR in Ireland are easier if you get settled in a critical skill job?
This is the list of jobs identified by the Irish government as skill-demanding.
And the good news is that a decent number of animation job roles fall under this list. 
5. World-renowned Animation Studios:
Ireland is home to many globally recognized and popular animation studios like Brown Bag Films, Boulder Media, Cartoon Saloon, and much more. 
Popular Courses for Masters in Animation in Ireland:
1. MSc in Computing in Computer Animation
Contemporary jobs don't restrict the idea of creativity to anybody. If you are one such person and worry about an unrelated graduation background, then this Masters in Animation in Ireland at DkIT is what you should look out for. 
It is a conversion program for anyone who is computer savvy and has a thirst for setting a career path in animation. And if we had forgotten to mention, this criteria is regardless of their background.
This course equips you with the skill set to design and develop digital assets for computer animation production and manage and evaluate them in a production pipeline.
Dreaming of becoming the best craftsman in animation? Course modules at DkIt are designed with the guidance of a range of companies and organizations working in animation production.
2. MA 3D Animation
If you are seeking an advanced 3d animation program, you can definitely have an eye for this Masters in Animation course at IADT. 
Please note
Masters in 3D Animation at IADT is available to all from the academic year 2023-2024
So what is it like taking a 3D Animation masters at IADT? You get a chance to get advanced training in a digital studio under the supervision of industry experts. 
There is a crucial uniqueness you shouldn't miss about this master's. It gives an opportunity beyond animation. This program lets you hone your existing skillset with leadership qualities needed for the contemporary media landscape. 
Apart from these level 9 Animation Masters in Ireland, there are two other best level 8 Higher Diploma Animation programs in Ireland.
3. Higher Diploma in Science – Production Management for Digital Animation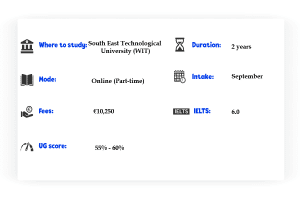 This H.Dip course at SETU is designed to address the immediate needs of the Animation Industry. 
Structured with the guidance of enterprise experts, this program leverages qualified project management graduates in Digital Media/Animation. 
Students are equipped with a blend of creative and technical aspects with relevant management and strategic planning skills. Three key objectives add to the program's uniqueness,
4. Higher Diploma 3D Modelling & Animation 
If you thirst for 3D animation and want to pick a specific area to focus on, this is the right place for you. 
This program gives an excellent opportunity to specialize in gaming animation, special effects, and feature animation. 
Expertise comes from a clear understanding of what makes one study different from similar fields. This program stands apart because it teaches you to find this grounding difference between each specialization you are exposed to. 
And does it stop with this? You will also be exposed to emerging assets such as augmented reality (AR) and Virtual Reality (VR) content creation.
Did you know?
The H.Dip program at LYIT comes with a work placement
Scholarships for Masters in Animation in Ireland:
All the universities listed in the blog for Animation masters in Ireland offer International students merit scholarships that can help you waive €1,000 from your tuition fee. 
Read more: A guide to scholarships in Ireland for International students
Career Prospects for Animation Masters in Ireland:
Ireland, the global corporate hub, houses over 33 world-famous animation studios. The presence of these giants and the demand for creativity has made many jobs listed under Ireland's critical skill occupation list. Factors like these make it no wonder to prove this country a great career destination for Animation graduates.  
The average base pay for an Animator in Ireland is €30,000/annum, with Dublin and Cork being the highest payable cities. 
Want to Take the Big Step in Your Career?
Here we are to help you. 
Sarem Education is a leading study in Ireland consultancy in India with 20+ years of experience.
Our vast experience and university tie-ups have made 1000s of students like you easily achieve their study abroad dream.
We are looking forward to helping your dream as well. And we are just a click away from you.
Book a FREE call with Expert Counselor