6 Key Differences Between a University SOP and Visa SOP
Studying abroad involves a lot of paperwork. Each of them is crucial in its own way. University SOPs and Visa SOPs are two of the most important documents you need to compile in order to gain admission to your dream course in your dream country. 
In some cases, University SOPs are not mandatory. But it's a fact that you cannot skip writing your SOP for your student visa. So before putting pen to paper, it is essential to understand the difference between a University SOP and a Visa SOP.
The skeleton of an SOP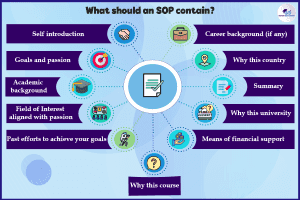 6 Differences between a University SOP and for Visa SOP
SOPs for student visas and university SOPs often differ in minute details that are hard to grasp.
Here are the main 6 differences that help you to understand the line between them.
| | | |
| --- | --- | --- |
| | University SOP | Visa SOP |
| What is the purpose? | To get admitted into a particular course in a university | To obtain a student visa to study abroad |
| Who is it addressed to? | University's admission panel  | Embassy members/Immigration authorities |
| What information is to be provided? | Reasons and eligibility behind selecting a particular course and the university | Providing the intent and eligibility to study in a country  |
| What should it reflect? | How the course and university can contribute to your professional success | Same as that of the University SOP. Furthermore, it should reflect your desire to return to your home country after your studies |
| What are the points to be highlighted? | Professional/academic exposure, achievements, course curriculum, and career prospects, plans for enhancing your skills during the course, special mentions on the university | Where would you like to be 5 years from now, Financial plans that support your fees and stay time, reasons for selecting the country and university, desire to return back |
| What can the reasons for rejection?  | Lack of a clear reason for how the course will improve your career prospects | Failing to show the intention of returning back to your home country or choosing a course that has no future prospects in your home country |
Final Note:
It has been a successful first step for you to understand the key differences between the two SOPs. Congrats to you on this! It is now time to start drafting your SOPs for your voyage abroad. 
We highly recommend you read all our related articles if you are still seeking additional tips on writing your statement of purpose.
In addition, you can speak with our industry experts for premium information (for FREE)  based on their experience.