Are you anxious about drafting your Statement Of Purpose (SOP) for the student visa?
Well, you shouldn't, at least after reading this blog.
An SOP for student visa is nothing but the exchange of ideas of the potential you bring to the table and hope to gain by studying in an abroad country.
A few simple steps can help you achieve all of these goals. Here are 7 steps that will GUARANTEE you to prove your uniqueness, making you the best fit to study abroad.
7 Easy Steps to Write an SOP for Student Visa:
Your values are beyond the academic numbers. Statement of Purpose (or essay) is the only document of application that explains your values in your own voice.
An SOP for a student visa gives you the freedom to communicate your eligibility to convince the embassy members of your suitability for studying in their country.
Step 1: Demonstrate Your Knowledge in the Field of Study
Make sure your words reflect a positive mindset and passion toward the chosen field of study.
Start it off by mapping your goals with the academic field to be chosen. Explain the well-researched positive impacts that are to be provided by the stream of interest.
Step 2: Describe Your Undergraduate Degree and Project
This step is for students who are applying for their Master's abroad.
Explain clearly about your bachelorette degree. Answer questions like why you chose it, what internship provided the foundation for your long-term goals, and what your final year project was about. Projects and internship details highlight your past efforts to add fuel to your passion.
Step 3: Throw Light on Your Work Nature
This is again for students who wish to do their Master's.
Most PG and Doctorate studies require a few years of work experience. It is always a good idea to explain how your work culture exposed you to opportunities that led to your passions.
You could add more value here by explaining what leveraged the curiosity in extending your horizon above work. Yes, its nothing but the reason behind picking a Masters
Step 4: Tell the Reason behind Choosing a Particular Course
To evaluate your application, the embassy team anticipates that you haven't selected any random course.
Your field of interest seems to be matching various courses abroad. Suppose you are interested in studying Business but would not want to blindly enroll in a General MBA course without researching the types of MBA courses available.
Thus, demonstrating an understanding of the subject, future scope, and value you can add to your long-term shows your keen interest in the subject.
Students also Read: Do's and Don'ts for an SOP for a student visa
Step 5: Tell the Reason behind Choosing the Country and University
Moving to an abroad destination for studies isn't a small decision. You should be well informed about your reason for choosing a particular university/college.
To add, not all universities and colleges can make you an expert in your chosen field of study. In light of this, explaining why the selected university is the best option for studying your dream course is imperative.
You can use two paragraphs to explain the university and country individually.
Step 6: Describe Your Career Goals
Procuring your dream job that leverages your career is the Holy Grail of studying abroad.
This is one of the crucial steps in your SOP for the student visa. Indicate how you intend to climb the success ladder based on your career prospects.
Step 7: An Intent
Have you ever loved a movie without a good climax?
So is an SOP for the student visa.
SOP conclusions are the last step before the embassy members grant you a visa. The importance of writing a perfect conclusion should now be self-evident to you.
An important tip here. Your intention of returning to your home country must be conveyed to the embassy members either before or during your conclusion.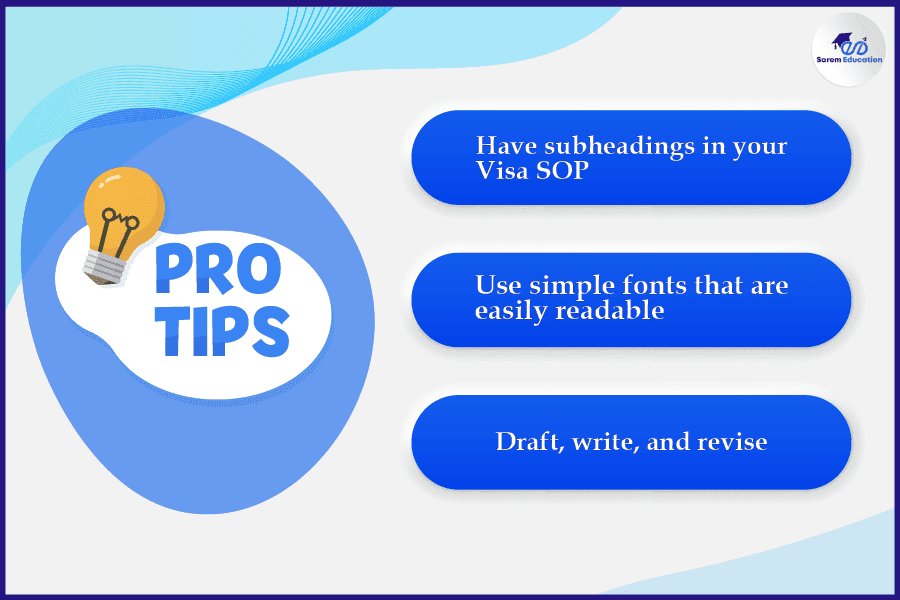 Final Note:
In addition to outlining the steps you can follow when writing an SOP for a student visa, we've promised a sample.
This can be the best sample you have ever found on the internet. Do you want to know why?
Perks of our Sample:
Well-marked SOP that connects with our 7 steps.
Pro-tips from our Senior Manager, Overseas Counselling. We're sure you'll find some tips that many consultants might overlook.