Welcome to our comprehensive guide on the Ireland Visa Application Process from India in 2023. If you're an Indian resident dreaming of studying, working, or exploring the picturesque landscapes of Ireland, you've come to the right place.
Understanding the Ireland visa application process is crucial for anyone planning to travel to Ireland from India. By familiarizing yourself with the process, you can gather the necessary documents, meet the eligibility criteria, and present a strong case to the Irish authorities. This understanding empowers you to navigate the application process confidently, saving time and minimizing the chances of setbacks.
Completing the Ireland Visa Application for Indian Students [in 8 Steps]
The application form serves as your official introduction to the Irish authorities. Follow these steps to ensure a smooth Ireland visa process from India. 
1. Download the application form
: 
Visit the official website of the Irish Naturalisation and Immigration Service (INIS) or the Irish embassy/consulate in India to download the visa application form. Make sure you download the form specific to your visa category.
2. Read the instructions carefully: 
Read the instructions and guidelines before filling out the form. This will help you understand each section's purpose and provide the correct information.
3. Use clear and legible handwriting: 
Write neatly and legibly in block letters or type the form if it is permissible. Avoid using abbreviations or unclear handwriting that may lead to misinterpretation.
4. Provide accurate information: 
Fill in the form with accurate and up-to-date information. Double-check the details before submitting to avoid any errors or inconsistencies. Ensure that the information matches the documents you are submitting.
5. Be consistent: 
Maintain consistency throughout the application form. Ensure that the information provided in different sections of the form aligns. Inconsistencies or discrepancies may raise concerns. This can be the cause of delayed results or application rejection.
6. Answer all questions: 
Complete all the required sections of the application form. If a question does not apply to you, write "N/A" or "Not Applicable" instead of leaving it blank. Unanswered questions could delay your application.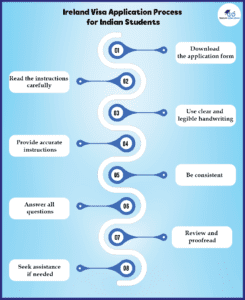 7. Review and proofread: 
Check the form for accuracy and completeness before submitting it. Spelling, missing information, and incomplete responses should be checked. A second opinion on your application may be helpful.
8. Seek assistance if needed: 
Seek assistance from the INIS or the embassy/consulate if you have doubts or difficulties understanding a particular question or section. It is crucial to provide accurate information. Hence, it is unnecessary to hesitate to seek clarification if required.
What you will learn further?
Understanding the Ireland Visa Application Types
Understanding the different visa types when applying for an Ireland visa from India is important. You increase your chances of success by choosing the right visa type for your purpose. The following is a list of four types of Ireland visas you should be aware of.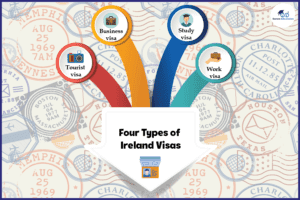 Tourist visa: 
Travelling to Ireland for leisure, sightseeing, or family visits requires a tourist visa. It grants temporary entry for a specific period, typically up to 90 days. This visa does not permit engagement in employment or studies.
Business visa: 
The business visa is appropriate if you plan to visit Ireland for business-related activities such as attending conferences, meetings, or exploring potential business opportunities. It allows you to engage in business activities but prohibits employment or long-term stays.
Study visa: 
Students aspiring to pursue an academic course in Ireland must apply for a study visa. This visa enables them to reside in Ireland for their chosen course. It requires acceptance into a recognized Irish educational institution and proof of sufficient funds to cover tuition fees and living expenses.
Work visa: 
The work visa is for individuals who have secured employment in Ireland. It allows them to work legally in the country for a specified period. A job offer from an Irish employer and proof of qualifications or skills are usually required to get the visa.
Book a FREE call with Expert Counselor
Ireland Visa Application Process: Requirements
Each type of Ireland visa discussed above has specific requirements and documentation. 
You can present a complete and accurate visa application by ensuring that you have the required documentation in order. This becomes important to increase the likelihood of a positive outcome.
Here are the key steps to follow when gathering your Ireland visa application documents
Understand the documentation checklist

Organize your personal documents

Collect the documentation that supports your finances

Provide proof of accommodation

Provide Education/employment documentation if required

Obtain travel/medical insurance

Obtain Police clearance certificate

Include supporting documents that strengthen your application

Make copies of all your documents before submitting your visa application
Ireland Visa Application Process via Study Abroad Consultancy
The process may differ if you apply for an Ireland visa through a consultancy. Consultancy-assisted Ireland visa applications follow the below steps:
1. Choose a reputable study abroad consultancy
: 
Research and select a reliable consultancy or visa application service specializing in Irish education guidance. Look for positive reviews and experience handling Irish university guidance and visa applications.
Sarem Education is a pioneering overseas education consultancy for Ireland and the UK. We are here to help ambitious students like you get into the world's best universities. Our 20+-year-experienced team helps you make the right decisions and provides all possible services for an easy process. All these have grown into adoration among our students, which is the main reason for all the 5-star reviews on Google.
2. Contact the consultancy
: 
Contact the consultancy through their website, email, or phone to inquire about their counseling services and discuss your requirements. They will provide information on the application process, required documents, fees, and any additional services they offer.
You can easily get in touch with Sarem's head counsellors, Mr. Murali, by submitting our "Free Expert Admission Guidance" form on our website. And when we say something is free, it truly is, with no hidden fees. From profile evaluation to admission, pre-departure to post-departure support, you have unlimited free expert personalised guidance. 
3. Document verification and preparation: 
The consultancy will guide you on the documents required for your visa application. They will help you check and prepare your documents for visa purposes.
At Sarem, students applying to Irish universities must choose a university and course before applying for a visa. After receiving the offer, our team will provide financial guidance and calculate the visa fee. We will also guide you with medical tests, insurance, loan assistance, and a list of all documents you must submit for your visa application.  
4. Application form assistance: 
The consultancy will provide guidance and support in correctly filling out the visa application form. 
While your document checklist is ready, our counselors take the hard work from you. You need not trouble yourself with understanding the puzzling visa application terms; at Sarem, everything is done for you. You can happily spend your time planning for your journey. 
5. Review and submission: 
Once your documents and application form are prepared, the consultancy will review them thoroughly to ensure everything is in order before submission.  
Our head counsellors will check your documents for accuracy and order. They will then submit your application on your behalf to the appropriate embassy or consulate. Then we book your visa interview and guide you through the Visa Application Centre's documentation and procedures. 
6. Fee payment:
You will get assistance from our team to inform you of the visa application fee. They will inform you about the accepted payment methods and ensure the fee is paid on time.
7. Application tracking: 
The consultancy will keep you updated on the progress of your visa application. 
Our team of experts at Sarem will track the application using the embassy or consulate's tracking system and notify you of any updates or additional requirements.
8. Communication with the embassy/consulate:
If there are any queries or requests for additional information from the embassy/consulate, the consultancy will act as an intermediary between you and the visa authorities. 
Your counsellor at Sarem will help you understand the questions and provide timely responses or documents. This support keeps you informed and helps you communicate with the visa authorities efficiently. 
9. Visa decision notification: 
Visa decision notification is a crucial step in the Ireland visa application process. Consultancies help you get visa results when you apply through them.
We will provide you with all the details of the decision, such as visa approval, rejection, or the need for further action. A timely response acts as a catalyst, and Sarem is an expert. We will communicate your visa decision as soon as possible and help you fast forward to the next actionable step. 
10. Visa collection: 
Visa collection is the final step in the Ireland visa application process, and when you apply through a consultancy, they will assist you in this process.
Sarem will have your back throughout the visa collection process. On visa approval, our team will inform you of the instructions, requirements, place, and date of collection of your visas. 
Final Note:
Remember, the Ireland visa application process may have challenges, but with proper preparation and guidance, you can embark on your journey to this enchanting country. So, plan, stay organized, and present a compelling case for your visit to Ireland.
Our team at Sarem, with their expertise and extensive experience, offers you invaluable guidance that leads to a remarkable 100% visa success rate. We help you access knowledge and personalized assistance tailored to your unique aspirations.
Start your journey with us and stay ahead of many others like you. Just a click below, and let's take care of the rest. 
FAQs
1. What will the student Ireland visa cost in 2023?
The application fee for an Ireland visa process from India is €60 – €100 (₹5250–₹8750). This non-refundable amount can be paid online through the Irish Naturalisation and Immigration Service (INIS) website. The payment can typically be made using a credit or debit card. Before paying, ensure you have a valid payment method and enough money to cover the visa fee.
2. For how many years is a student's Ireland visa work permit valid?
The validity of a student's Ireland visa work permit depends on the duration of the study program.
| | |
| --- | --- |
| Duration of Study Program | Validity of Work Permit |
| Less than 1 year | Valid for the duration of the program |
| 1 year or more | Valid for 1 year, renewable annually |
Students should familiarise themselves with the work permit conditions and consult the Irish Naturalisation and Immigration Service (INIS) for accurate information on their student visa's work permit validity.
3. What is Ireland's visa success rate?
Ireland's visa success rate is generally quite high (>95%). The country has a favorable reputation for welcoming international students, professionals, and visitors. Ireland has a streamlined visa application process and assesses each application on its individual merits. By ensuring that all the required documents are submitted accurately and the eligibility criteria are met, applicants have a good chance of obtaining their desired visa.
4. Can you travel to Ireland with a UK student visa?
You can travel to Ireland without a visa only if you have a UK short-stay visa and are from India or China.
5. What are the Ireland student visa rejection reasons?
Here are some common reasons for your Irish student visa rejection:
Insufficient funds

Lack of genuine intent

Incomplete or inaccurate documentation

Failure to meet eligibility criteria

Issues with police clearance

Previous history of visa rejections

Lack of ties to country

No expressing interest in returning to your home country in your visa SOP