Tracking your application lets you stay informed and address any issues quickly. But sometimes, tracking your Ireland visa status check can leave you feeling lost in a sea of uncertainty. 
Fear not, aspiring scholars! 
Get ready to embark on a smooth and confident path toward your dreams. Let us dive into the essential procedure of Ireland visa application tracking. Follow this step-by-step guide to help you find your way through the process. 
Ireland Visa Status Check: 5 Must-do Steps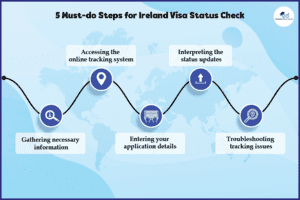 Step 1: Gathering necessary information
Before diving into the tracking process, ensure you have the essential information. This includes your application reference number, passport details, and other relevant identification numbers provided during the application submission. 
Step 2: Accessing the Ireland visa online tracking system
The Irish authorities typically provide an online tracking system on their official visa application website. Visit the designated tracking page and look for "Check Your Application Status" or a similar option to begin tracking.
Step 3: Entering your application details
Enter the required information accurately and precisely in the designated fields. Double-check the details you provide to ensure they match the information submitted with your visa application. Common details to enter may include your,
Step 4: Interpreting the Ireland visa status updates
Once you've submitted the necessary details, the tracking system will update you on your application status. These updates may include stages such as,
Familiarize yourself with the meaning of each status to understand the progress of your application.
| | |
| --- | --- |
| Application Status | Status Description |
| Application Received | Your visa application has been successfully submitted and is being processed |
| Under Review | The immigration authorities are currently reviewing your application. This stage involves assessing your documents, conducting background checks, and verifying the information provided |
| Decision Made | The immigration authorities have reached a decision regarding your visa application. This stage could result in approval, rejection, or additional requests for documents or information |
| Passport Ready for Collection | If your application is approved, this status means your passport is ready to be collected or delivered to you. Follow the instructions provided to retrieve your passport |
Step 5: Troubleshooting common tracking issues
In some cases, you might encounter technical difficulties or discrepancies in the tracking system. If you experience any issues or if the provided information seems unclear or outdated, it's advisable to contact the relevant authorities directly. Reach out to the embassy, consulate, or visa application center handling your application for further assistance.
75% of students like you want to read the following articles:
Tracking Your Ireland Visa Application – Self Vs. Study Abroad Counselor
| | | |
| --- | --- | --- |
| | Self Tracking | Tracking with Abroad Expert's Guidance |
| Expertise | Students may have a limited understanding of visa application procedures, leading to potential mistakes or misunderstandings | Specially trained to guide  visa application procedures, ensuring accurate guidance |
| Time-saving | Students get an administrative burden in understanding and completing the visa tracking process themselves | They help students with paperwork and administrative tasks, saving time. |
| Access to Information | Students may struggle to stay informed about the latest visa application updates, leading to potential delays | They keep students informed of visa procedures' latest changes. |
| Assistance with Documentation | Students may inadvertently make mistakes in documentation, leading to potential delays or rejections | They help gather and organize the required documents, reducing the risk of errors or omissions |
| Troubleshooting | Students may encounter challenges during the visa tracking process and struggle to resolve them independently | Expertise in navigating any complex issues or complications that may arise during the visa tracking process |
| Enhanced Support | Students may have to handle many study abroad tasks alone, which can cause stress and uncertainty | They provide additional support, such as pre-departure assistance, accommodation guidance, and travel arrangements |
What is the Processing Time for Ireland Student Visas?
The median processing time for an Ireland student visa is 20 working days. Students can check the Irish Immigration website for regular visa-decision updates. 
Unexpected events might cause a delay in the issuance of your visa. This may be due to document processing issues. In such cases, a thorough review precedes the decision. Such situations may result in a few-week delay. 
Ireland Visa Processing Time

Visa Category

Median Processing Time in Days

Business

15

Employment (critical skill)

15

Employment (general)

20

Joint family

20

Study

20

Visitor

20

Others

20
Related read: Steps for Ireland Student Visa Processing from India [8 steps]
Key Takeaway
Stay informed, be proactive, and use the online tracking system provided to keep a pulse on your application's progress. Remember, knowledge is your passport to success, so embrace the power of tracking and pave the way to your exciting educational journey in Ireland.
For any clarification, don't hesitate to reach out to the embassy or your study abroad expert for timely guidance. Please remember: It's better to seek guidance than to make assumptions that could lead to inaccuracies.