Not ready for any old marketing course where your knowledge is limited within a classroom environment?
Have you started looking out to learn the skills necessary to thrive in the global marketing industry?
Then a study abroad option like Masters in Marketing in Ireland will make the jewel in your crown.
Taking advantage of the global market requires diverse business exposure and solving crucial problems for the global client base in the real world.
A curriculum set on top of trends shapes you to adapt to different environments quickly. This is the quality of education that all universities in Ireland for masters can guarantee you.
And…
What if we told you there are Masters in Marketing courses in Ireland that also guarantee you jobs?
Getting more hyped? Let's explore more about these.
Book a FREE call with Expert Counselor
Why Can Ireland Be Your Best Destination for Marketing Masters? 
There are numerous benefits of studying in Ireland, and here are five top reasons to study Masters in Marketing in Ireland:
1. Quality education: Ireland is known for its excellent education system, with several universities ranked among the best in the world. Students studying marketing in Ireland can expect a high-quality education that is respected globally.
2. Thriving business environment: Ireland is home to many multinational corporations, SMEs, and startups, creating a thriving business environment. Marketing students can gain valuable practical experience through internships, work placements, and projects.
3. Diverse culture: Ireland is a welcoming and diverse country with a rich cultural heritage. Studying marketing in Ireland can allow students to experience a new culture, make new friends, and gain a broader perspective on the world.
4. Career opportunities: It's worth noting that Ireland has a thriving startup ecosystem, which has created many opportunities for marketing professionals to work in innovative and dynamic environments.
Additionally, with the rise of remote work and flexible working arrangements, it's possible to work for Irish companies from anywhere in the world, opening up even more opportunities for those seeking a career in marketing in Ireland.
5. High Payscale: Marketing professionals in Ireland can earn a competitive salary. According to the website Payscale, the average salary for a marketing manager in Ireland is €40,000 per year, while a marketing executive can earn an average of €30,480 per year.
However, these figures can vary based on factors such as the company's size, the industry, and the candidate's experience and qualifications.
What is the Scope of Marketing in Ireland?
Marketing has a significant scope in Ireland, as the country is home to many multinational corporations, SMEs, and startups that require effective marketing strategies to succeed.
The Irish economy strongly focuses on exports, and many companies rely on marketing to reach international customers.
Marketing roles in Ireland can be found in a wide range of industries, including technology, finance, healthcare, hospitality, and more.
There are also many marketing agencies in Ireland, providing opportunities for professionals to work on marketing campaigns for multiple clients across various industries.
Read more: The Best 4 Digital Marketing Masters in Ireland
Top Universities for Masters in Marketing in Ireland [2024]
These are the top universities with global subject ranking for pursuing a Masters in Marketing in Ireland in 2024:
Masters in Marketing Courses in Ireland:
Below are the 7 best Masters in Marketing Courses in Ireland,
MSc. Marketing
MSc. Management & Marketing
MSc. Marketing Management
MSc. Marketing, Consumption & Society
MSc. Strategic Marketing
MBS. Marketing
MBS. Strategic Management & Marketing
Masters in Marketing: Program overview, Fees, Requirements
Marketing has grown and gone far beyond our imagination in the contemporary world. Researching the modules before picking a Marketing masters course is the key to you grabbing the role of your desired dream.
MSc.Marketing at the Trinity School is one of the best Masters in Marketing programs in Ireland that contains everything for a high-paid career in future.
Modules like data analytics, branding, and strategy cover the in-depth concepts of careers in various fields, including marketing management, market research, advertising, digital marketing, and more.
Hence, it is no surprise that the course ranks #1 in Western Europe for Marketing (Eduniversal, 2022).
The fact that you will love
MSc. Marketing at TCD provides analytical and practice-based training from expert faculty and executives from top multinationals like Google and Microsoft.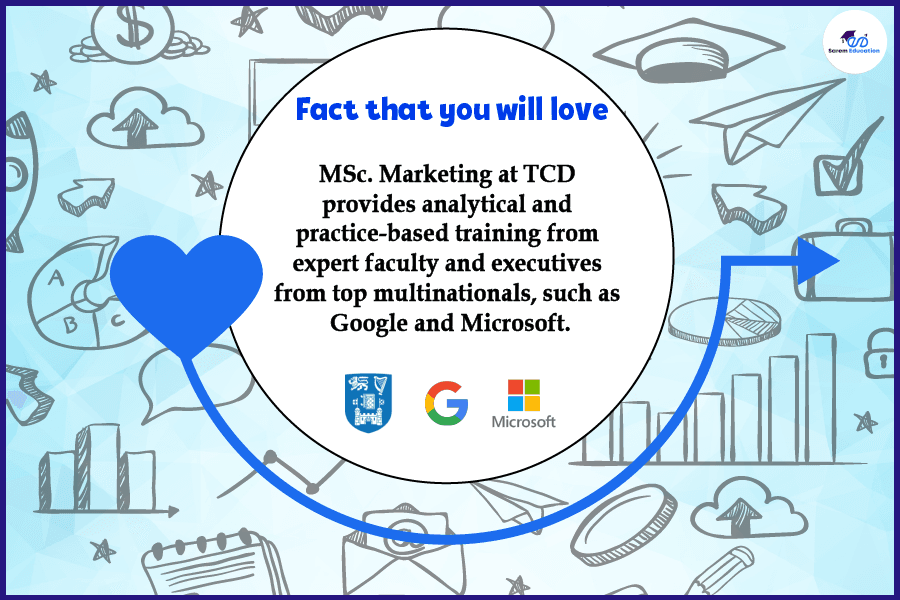 University College Dublin
MSc. Marketing at UCD provides students with a transformative learning experience by emphasizing the importance of strategic thinking, autonomous learning, and innovative and agile problem-solving.
The course is fulfilled by undertaking a small primary research project that reflects the significance of a research-led pedagogy on the program, which also encompasses in-class debates, case studies, presentations and online resources in its design.
Did you know?
Graduates of MSc. Marketing at UCD secured employment in various prestigious multinational companies, such as Coca-Cola, Hewlett Packard, Google, Facebook, Microsoft and Sony.
This University offers two Marketing programs for international students.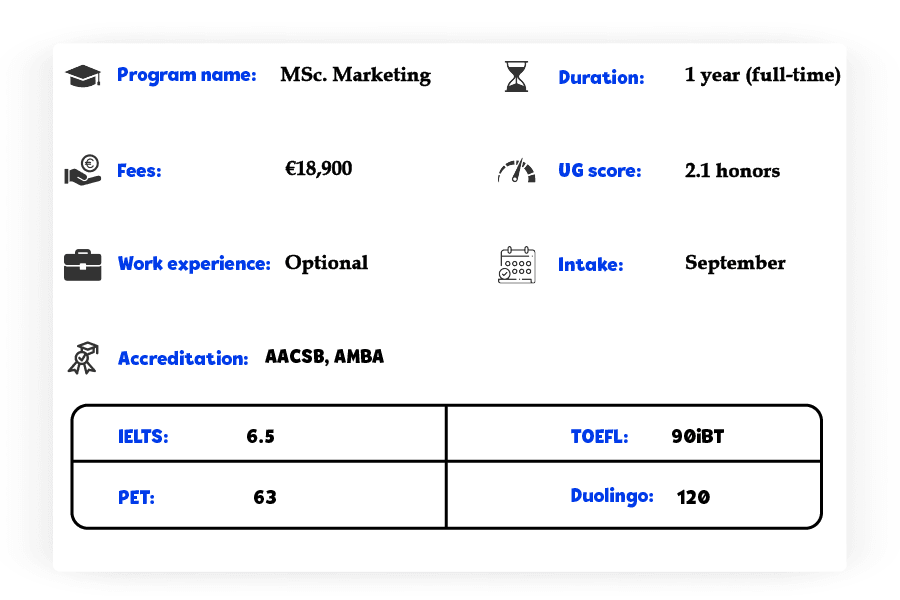 This strategic marketing program at Cork Business School helps develop your professional expertise and creative abilities through undertaking an applied research and consultancy project in collaboration with an industry partner.
This workplace experience leverages leading-edge skills and gains customer insights with active problem-solving techniques.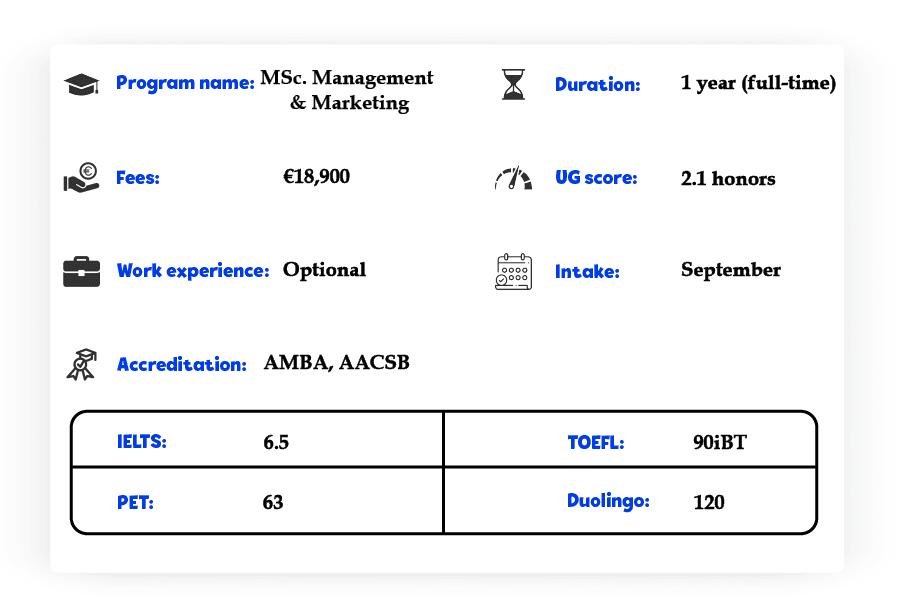 Management and Marketing masters at Cork Business School are suitable for graduates from non-management backgrounds who wish to pursue a business career.
That said, the course suits any business career in any knowledge-based economy by emphasizing strategic, operational, and innovation aspects of management and marketing.
All these aspects form the uniqueness of this program. Students will be exposed to face both theoretical and practice-orientated assignments to enable them to solve real-world business problems.
The fact that you will love
MSc. Management & Marketing course has a unique module – Specialist Personal & Professional Development, a range of professional development training that includes CV and online portfolio building and other soft skills training essential to success.
This course is designed to provide you with a comprehensive understanding of the principles and practices of marketing management, which will be an asset in your future career.
By the end of this course, students will be successfully trained to get positioned in various hire tire marketing roles within multinational organizations.
A one-week summer school, a part of the program modules, which encompasses an Applied Marketing Project, requires you to play the role of consultant where you directly solve marketing problems with an assigned real live company.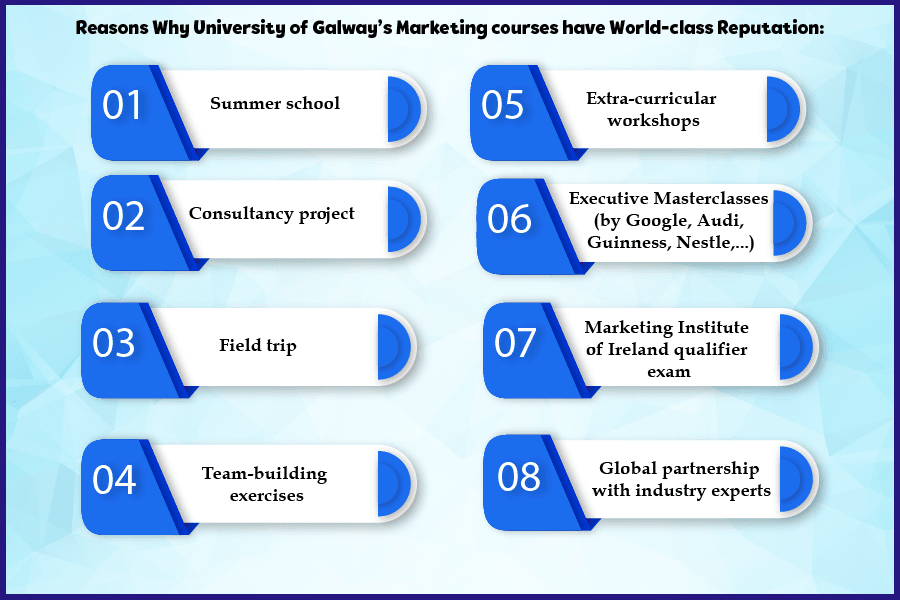 The MSc. Marketing, Consumption & Society is one of a kind postgraduate Marketing program in Ireland that fosters three main objectives:
Intensified training marketing theory and research
Comprehensive understanding of consumer culture
Appreciation of marketing's responsibilities to organizations and to society
Interested in a Dual Degree?
This program is the pick for you. You can continue a second year of study in one of UL's French partners. Hurrah!! An MSc degree from the University of Limerick and a French university.
Technological University Dublin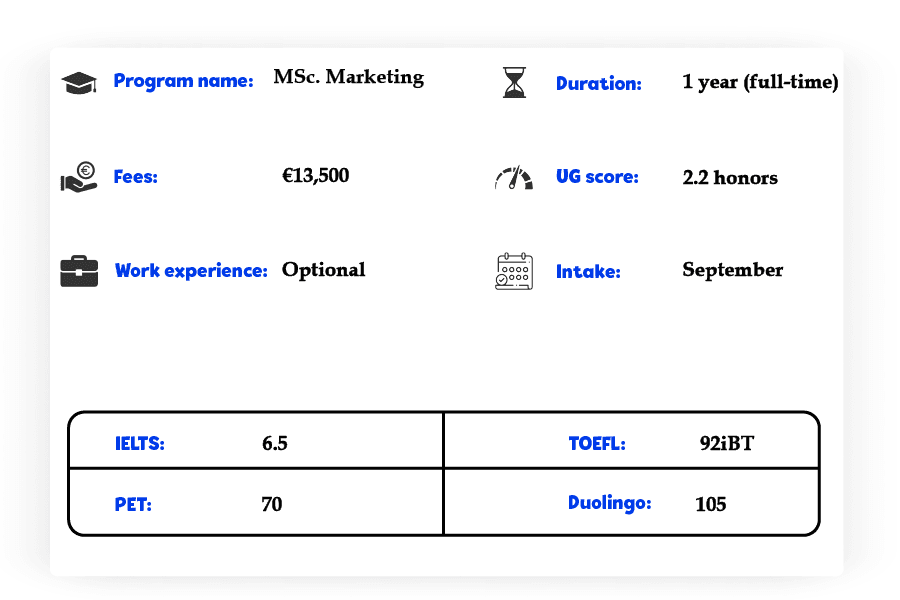 This intensive conversion program is focused on non-business graduates who wish to proceed with their career track in a business domain with tenants of marketing recognised as the drivers of business success.
You will receive accelerated training to educate you on the conceptual tools needed to specialize in fundamental business and advanced marketing modules.
If somebody asks you for the big cheese in marketing, the answer is definitely "a strategy" without hesitation. A good marketing strategy helps you stay in sync with your customer base and Duolingoermine how you communicate information about your products.
This MSc. Strategic Marketing course at Maynooth equips you with the knowledge and skills that connect firms and customers in a dynamic global marketplace.
As part of this program, you will learn some of the key steps that are crucial to the development of a business, such as managing sales in an international setting, understanding how consumers make decisions in the current environment, and much more, including how to control big data in an organization.
South East Technological University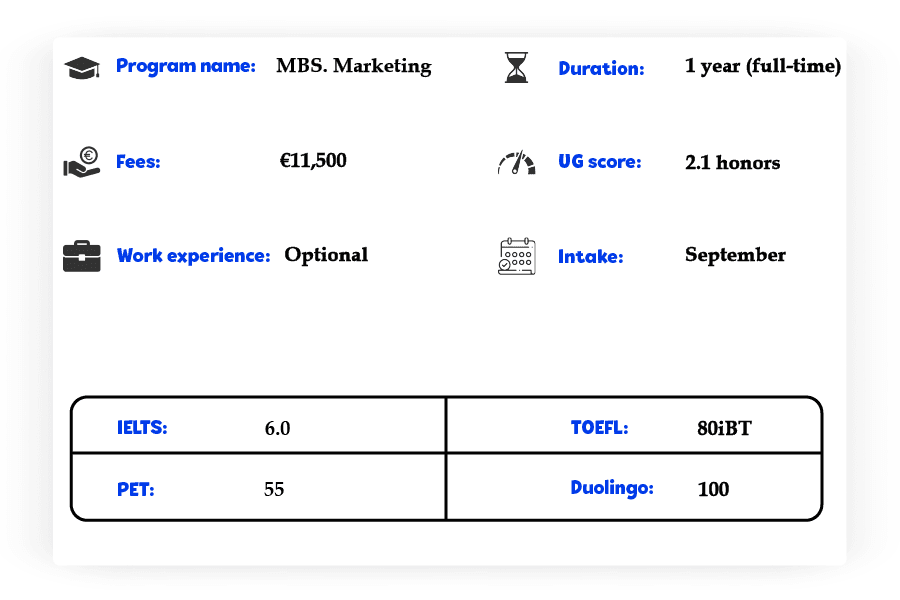 The program helps students develop a critical awareness of basic business concepts and specialise in contemporary marketing theories and practices.
An emphasis is placed on integrating key theoretical developments and critically analyzing and applying these concepts to actual business situations.
Digital Marketing is given particular attention due to its rapid evolution in the market.
Atlantic Technological University
Are you interested in setting up a firm career in marketing at the managerial or senior executive level?
This master's course prepares you for one such career with the skill necessary for professional marketing practice.
This is brought to you through interactive learning, case studies, guest lectures, seminars and workshops at ATU.
Please note: Students who wish to attend a full-time on-campus mode can also apply for this program. Details of which will be shared during admission discussions.
Technological University of the Shannon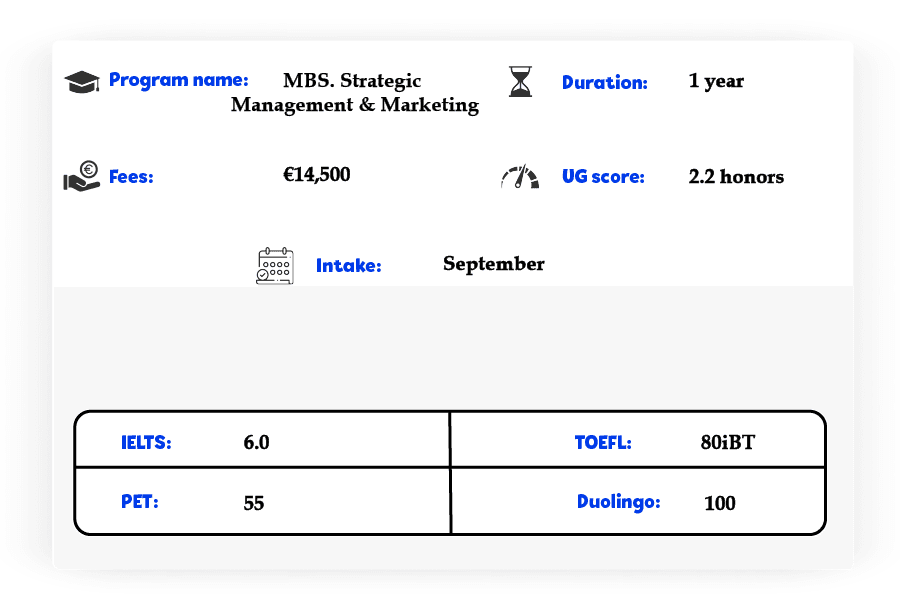 Strategic management skills are instilled in the students through problem-based learning (PBL), direct contact with industry, workshops and case studies.
The program is structured to maximise students' practice-based learning, where you will be constantly challenged to apply learning and theory to real-world situations.
This program is designed to be academically challenging and strategically relevant in advanced marketing.
Students of this course will be equipped with the knowledge and skills necessary for junior to senior-level marketing positions to perform in a challenging environment.
National College of Ireland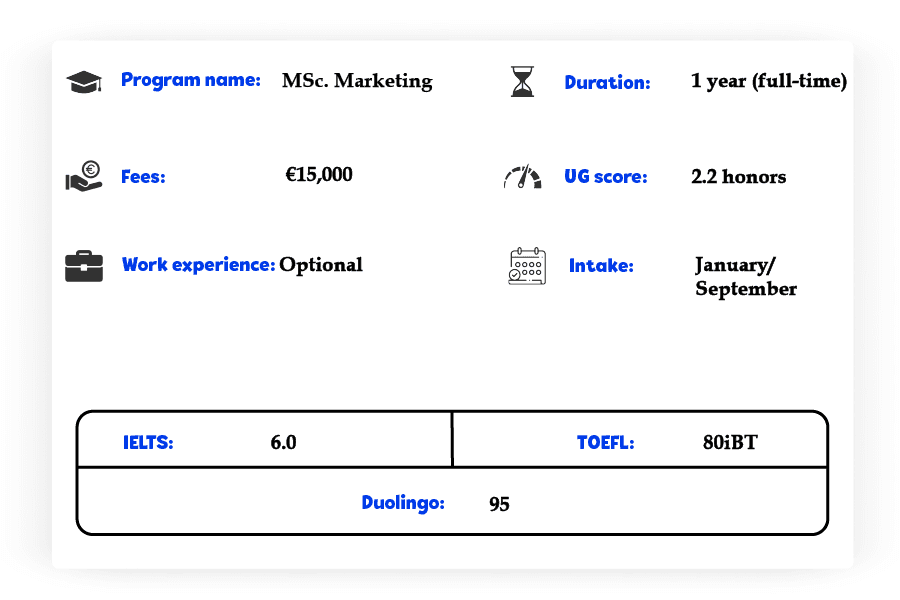 MSc. Marketing at NCIRL, Ireland, offers students real insight and experience in planning and executing marketing campaigns and strategies with a wide range of contemporary and fundamental marketing topics.
Blockchain Methodology at NCIRL
An applied approach to teaching that delivers one module at a time to allow full immersion in each subject
Scholarships for Masters in Marketing in Ireland:
University/ College
Scholarship
Waiver

Trinity College Dublin

Postgraduate Indian Scholarships

€3,000

Global Excellence Postgraduate Scholarships

€2000 to €5,000

Trinity Business School Scholarships

Up to  €10,000

University College Dublin

MSc Academic Excellence Scholarship

Up to

25% or 50% of tuition fees

VV. Giri Global Excellence Scholarship (in memory of UCD's alumnus and the fourth President of India, Sir

Varahagiri Venkata Giri)

Full tuition fee waiver

Global Excellence Scholarships

Up to

100% to 50% of tuition fees

University of Galway

South Asian Student Scholarships

€1,000

up to 50% tuition fee

Maynooth University

School of Business Postgraduate Scholarships

€2,000

South East Technological University 

International Students

Merit Scholarships

€1,000 

Atlantic Technological University

Technological University of the Shannon

Dublin Business School

International Students Merit Scholarships

€1,000

National College of Ireland
The Ireland government is keenly interested in attracting talents globally, making their study experience smooth with numerous scholarships.
One such scholarship for a full-time Master's program is the Government of Ireland International Education Scholarship, which helps to study for FREE in Ireland with an additional stipend of €10,000 to cover the cost of living in Ireland.
Job Prospects:
Job prospects for marketing masters in Ireland are good.
Ireland is a hub for many international companies, and it has a strong economy that is continually growing. With this growth comes an increasing demand for skilled marketing professionals.
In addition, Ireland has a vibrant startup scene, which has been growing in recent years. These startups always seek talented marketing professionals to help them build their brands and promote their products or services.
All these factors have made marketing roles in Ireland fall under the Critical skill employment list, which can reduce your years for applying for a PR in Ireland.
Average payscale:
Studies say that the average pay for MSc. Marketing graduates in Ireland are €35k/annum (31.2 Lakhs/annum).
Thinking about what to do next?
Overall, studying masters in marketing in Ireland can provide students with a high-quality education, practical experience, and a competitive advantage in the job market, along with exposure to a diverse culture and many career opportunities.
In conclusion, the scope of marketing in Ireland is vast, and with the right skills and experience, professionals can find rewarding careers in various industries and sectors.
Need a helping hand to evaluate your profile for an MS program in Ireland?
Book a FREE call with Expert Counselor
FAQs:
What are the benefits of pursuing a Master's in Marketing in Ireland?
A Masters in Marketing in Ireland can provide you with advanced knowledge and skills in marketing, making you a valuable asset to any organization. It can also enhance your career prospects and earning potential. Additionally, studying in Ireland can allow you to experience a new culture and expand your network.
What are the admission requirements for a Masters in Marketing in Ireland?
Admission requirements vary depending on the university and program, but most programs require a Bachelor's degree in a related field with a 65% score. Non-business graduates can secure a seat by showing relevant work experience in the field. Apart from this, you need an IELTS score of 6.5 or equivalent if you are a non-native English speaker.
How long does it take to complete a Masters in Marketing in Ireland?
A full-time on-campus Masters in Marketing program in Ireland take one year to complete.
What kind of career can I expect after completing a Masters in Marketing in Ireland?
Graduates of Masters in Marketing programs in Ireland can pursue various careers in marketing, such as marketing manager, brand manager, market research analyst, digital marketing specialist, and more. They can work in various industries, including consumer goods, healthcare, technology, and more.
What is the average salary for someone with a Masters in Marketing in Ireland?
The average salary for a graduate with Marketing Masters in Ireland varies depending on the job title and industry, but it can range from €30,000 to €50,000 per year (average base pay).
Are there any scholarships available for Masters in Marketing programs in Ireland?
Various scholarships are available for international students pursuing Masters in Marketing programs in Ireland.
Some scholarships are offered by universities, while others are offered by external organizations.
Researching and applying for scholarships early is essential to increase your chances of receiving funding.